Hotel Villa Michelon offers an infrastructure dedicated to your well-being and comfort. A unique place, hospitable and cozy, surrounded by the splendid nature of the Valley. The complex is an invitation to live moments of pleasure and happiness in the heart of the Valley of the Vineyards.
Please review
> this link
a Illustration with Hotel Map!
Main Building: Reception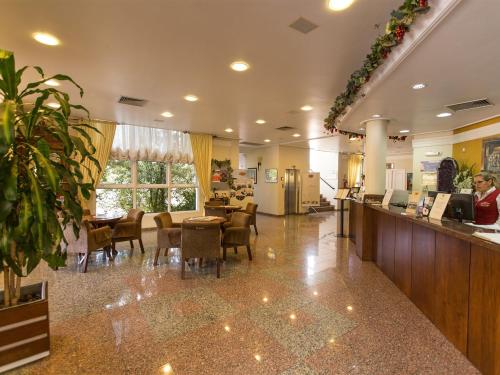 Primarily for the ease in its procedures, the reception brings the comfort and agility necessary to make your stay in Vale dos Vinhedos a memorable one.
Playground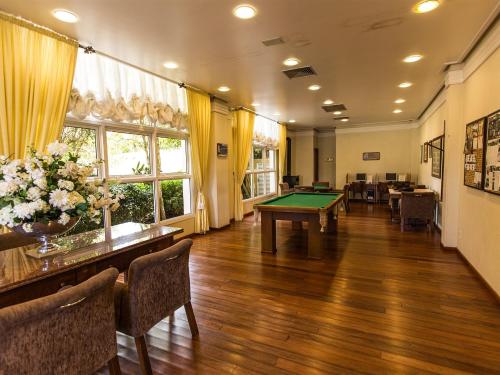 Dedicated to fun, the game room puts at your disposal pool table, chess and card games.
Living room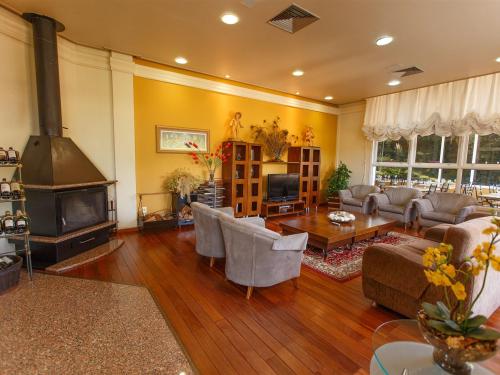 A warm and well decorated environment where our guests can watch television, talk, meet new people and make friends.
restaurant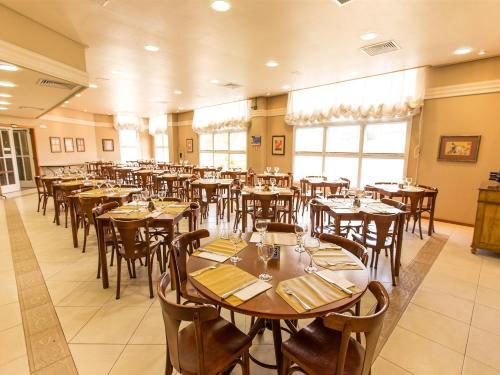 Accompanied by the exuberant view of the Valley of the Vineyards, the restaurant with a capacity for 130 people has a pleasant atmosphere and offers buffet and a la carte services. The gastronomy of the restaurant, added to the many wines, values ??the typical colonial food of the region and the Italian culture.
Lake and Cooper Lane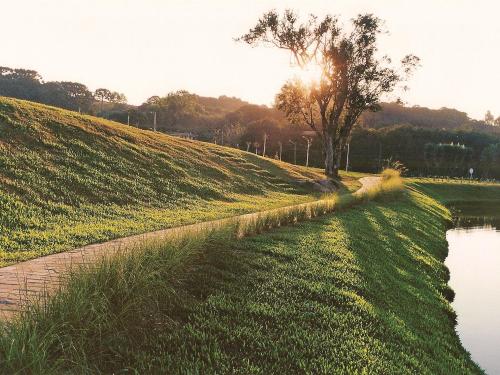 The charming landscape that accompanies the Lake and 290m Cooper's Lane is an invitation to practice running and walking or simply feel and enjoy nature.
Wine Memorial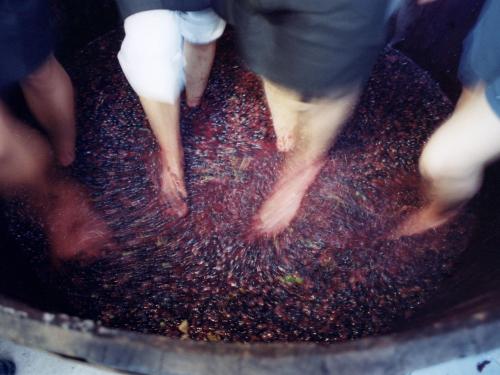 A place to be enchanted and to live the evolution of the techniques in the production of grapes and elaboration of the wines, from 1875 until the end of Century XX. They are thematic panels, with photos, texts and maps that tell the history of wine. The space was created to preserve and strengthen the cultural identity of the Italian people, their habits and values. Days of visitation and schedule: Saturdays and Sundays from 10am to 5pm.
Casa do Filó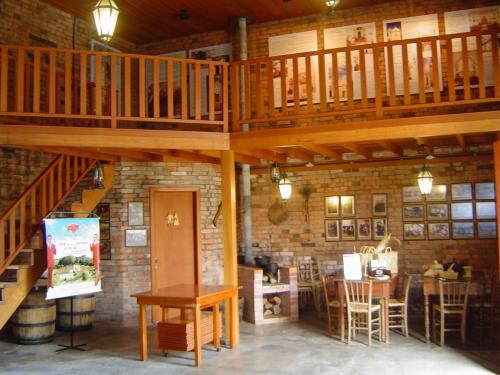 The leisure center strengthens the culture through historical photos, music, gastronomy and religiosity. The space recalls and cultivates the social gatherings of the beginning of colonization.
Model Parreiral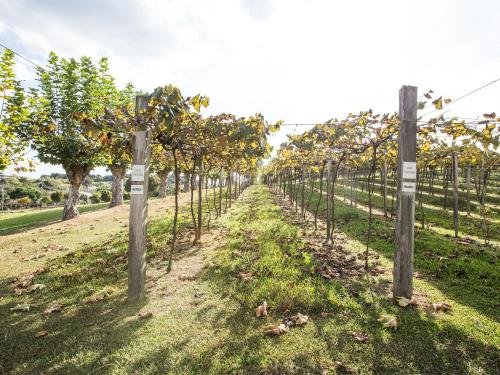 Designed to enrich the experience of the visitor, the Model Vineyard of Villa Michelon counts, through the vineyards, the evolution of the cultivation techniques of the grapes that give origin to the excellent wines of the Valley. During the harvest, from January to March, it is possible to taste the grapes of different varieties and enjoy the charms of the harvest season.
Quad Bike Rides (Outsourced)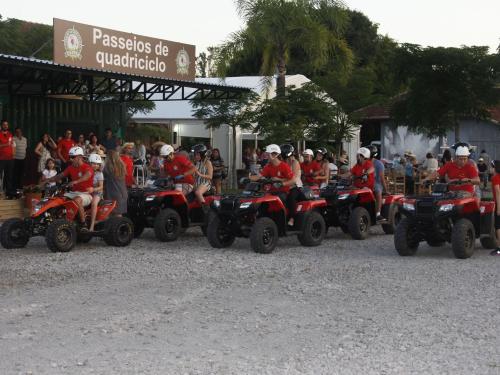 Open to guests and visitors of the Vale dos Vinhedos, the quad bike rides promoted by the Gasper Adventure Park run along the ecological trails of Villa Michelon, in a path full of adrenaline. The tours are running from Wednesday to Sunday, from 9am to 5.30pm, on Villa Michelon properties. To schedule at another time, just contact the instructors Paulo and Fabiano at (54) 9 8125 4955 and (54) 9 9107 2859.
Tirolesa (Terceirizado)
Aberto para hóspedes e visitantes do Vale dos Vinhedos, A Tirolesa sob o Lago, promovida pelo Parque de Aventuras Gasper dá uma visão privilegiada do Complexo Turístico, em um trajeto cheio de adrenalina. A Tirolesa funciona de quinta-feira a domingo, das 9h às 17h30min, nas propriedades do Villa Michelon. Para agendar em outro horário, basta entrar em contato com os instrutores Paulo e Fabiano pelos telefones (54) 9 8125 4955 e (54) 9 9107 2859. Acesse o instagram da Gasper Vale dos Vinhedos clicando
aqui.
Sports Clubs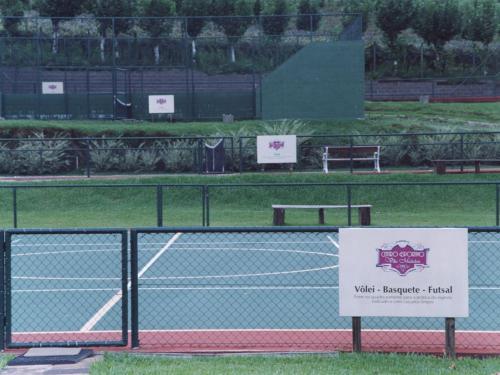 In the Villa Michelon Complex, besides the beautiful landscapes, there is also space for the sport. The hotel has multi-sports courts for volleyball, futsal, basketball and handball. In addition, there are also suitable courts for tennis and paddle. Our guests can have fun playing sports and breathing the pure air of the Valley.
External Academy
Villa Michelon's External Academy provides health care admiring the beautiful landscape of the Valley of the Vineyards. The appliances are suitable for all ages.
Event Center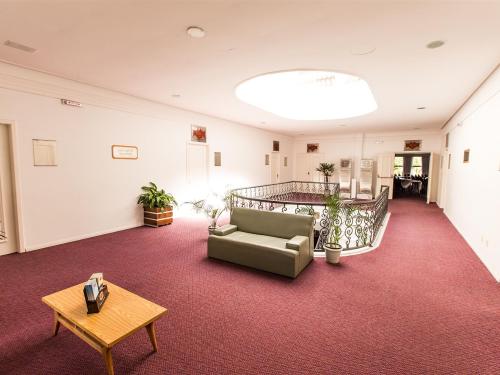 The complete infrastructure of the Villa Michelon is the perfect space for the success of your event, be it convention, seminar or meeting. With a capacity for up to 300 people, with seven modular rooms, the environment is conducive to the work and creativity of its guests.
Events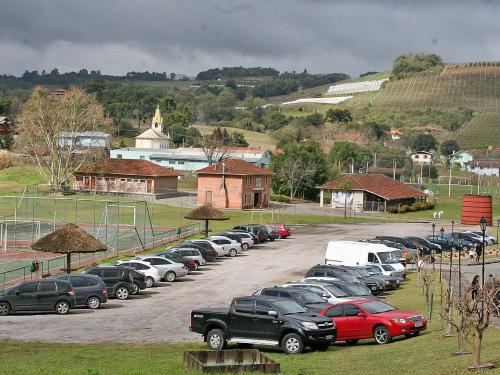 For users of the event center, a large parking area for cars and buses within the Complex.
Helipad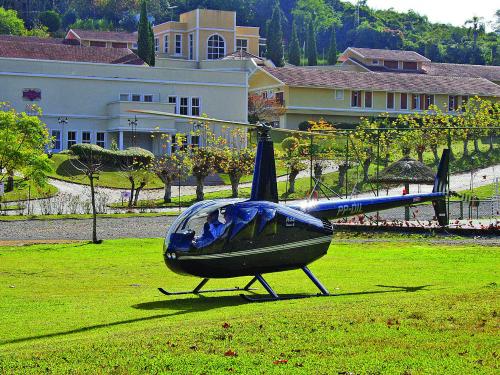 Installed next to the Hotel Villa Michelon, the helipad is available to our guests and other visitors lovers of the Valley of the Vineyards.
Riesling Wing
In honor of the grape that originates a white wine of excellent taste and aroma, the wing houses 08 luxury apartments and 04 super luxury.
Merlot Wing
Counting on 10 Standard apartments, 02 Super Luxury, in addition to 07 Economical apartments * the wing receives this name in honor of the ink grape symbol of the Valley of the Vineyards, that originates a red wine of intense and brilliant coloring, of body and aging medium, fruity aromas and striking palate.
* Economy Apartments located on the lower floor, with exclusive access by stairs. They have tilting windows and limited view.
Ala Chardonnay
The space in honor of the white grape symbol of the Valley of the Vineyards, used in the preparation of white wines and sparkling striking and pleasant taste, is composed of 09 standard rooms, 03 Super Deluxe and a special suite.
Cabernet Sauvignon Wing
The wing in honor of the noble and full-bodied wine, vivid color and striking aroma, consists of 09 apartments Luxury, 03 Super Deluxe and a special suite.
Atrium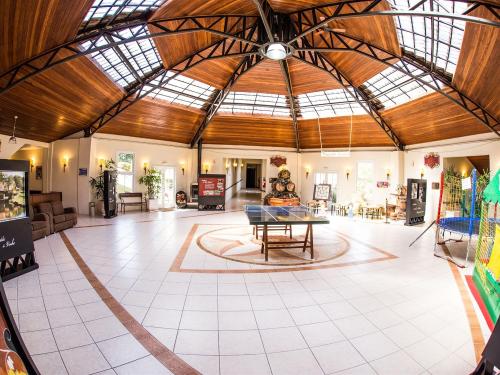 A distinctive place inside the Hotel, with spaces for circulation and integration between the guests of Villa Michelon.
Piazza dei Bambini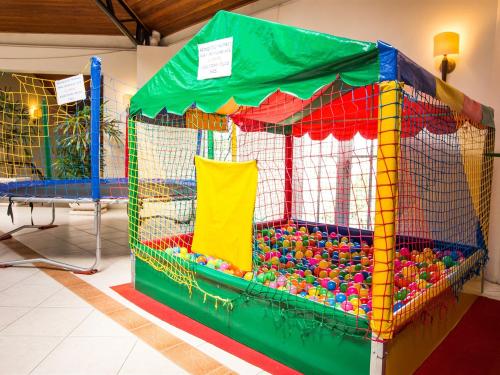 A space that values ??culture and gives children a fun back to the past. Equipped with toys, various games, books and crayons. A recreationist ensures the comfort and safety of the small, on holidays and weekends.
Thermal Pool and Fitness Room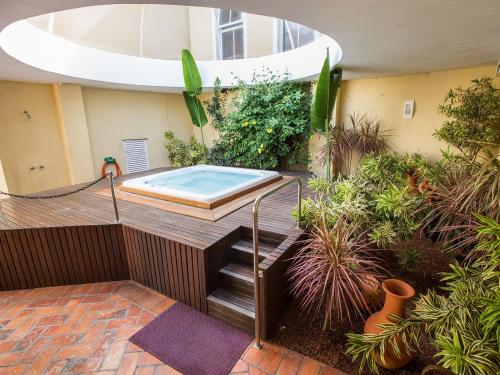 Tranquilidade e conforto para os momentos de lazer. Desfrutando da mini academia inserida nas instalações do Villa Michelon, nossos hóspedes podem relaxar sem descuidar da saúde e do corpo. A Piscina Térmica e coberta garante diversão em todas as estações.
Playground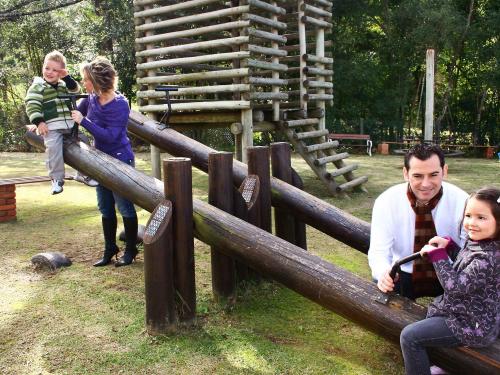 O Hotel Villa Michelon oferece opções para toda a família, com dezenas de brinquedos artesanais como gangorras, balanços e escorregadores. As crianças ganham a oportunidade de se divertir em plena segurança em meio à natureza.
Mini Fazendinha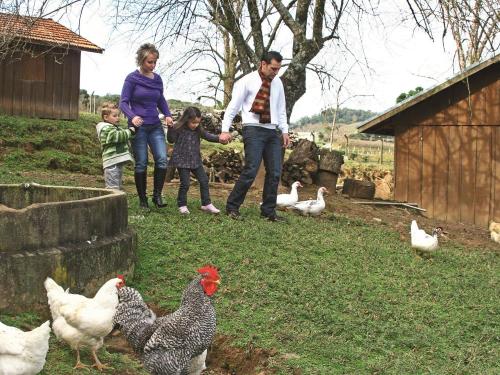 A criação de animais domésticos como galinhas, patos, marrecos, perus, ovelhas, pavões e coelhos junto ao Complexo, demonstra o comprometimento com a cultura regional, proporcionando ao hóspede o contato com a fauna da região.
Horta Ecológica e Herbário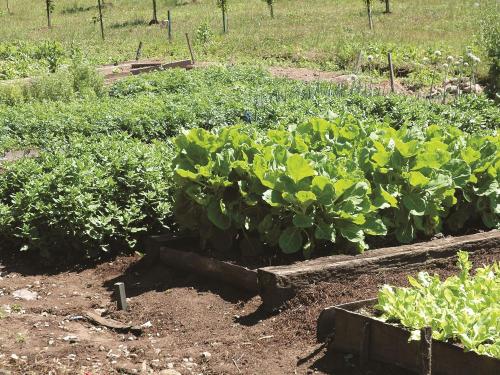 Cultivadas sem agrotóxicos e de forma ecológica, as hortaliças abastecem o restaurante, garantindo segurança e uma alimentação rica em vitaminas e sais minerais. Os sabores e aromas das refeições do hotel nascem também no herbário, onde o cultivo de especiarias segue a tradição trazida pelos imigrantes em laborar suas próprias ervas e temperos.
Pomar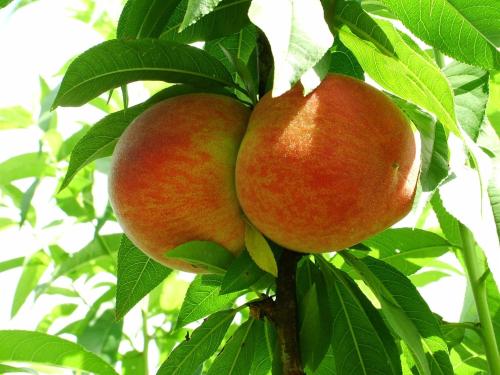 Um lugar para passear e saborear a fruta colhida na própria planta. São inúmeras árvores frutíferas para o hóspede aproveitar: figueiras, laranjeiras, bergamoteiras, caquizeiros, pessegueiros, árvores de kiwi, ameixeiras e pereiras.
Trilha Ecológica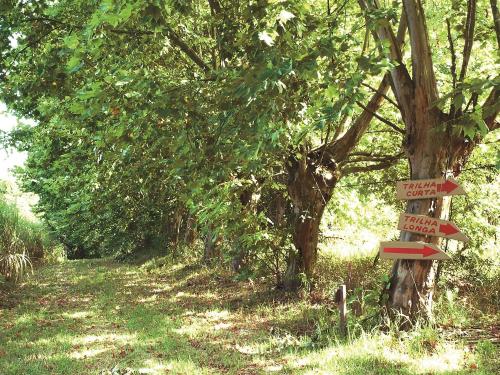 O Villa Michelon criou caminhos abertos na mata nativa, proporcionando aos hóspedes estar em contato direto com a natureza do coração do Vale dos Vinhedos. É possível sentir a natureza e relaxar com a trilha ecológica longa no percurso de 2.150m ou na curta, com 1.900m.
Acomodações
Um lugar apaixonante e acolhedor. O Villa Michelon oferece em sua estrutura apartamentos econômico, standard, super luxo e suíte especial. Nossos hóspedes são surpreendidos pelo charme da decoração dos apartamentos, uma releitura das casas antigas dos italianos, típicas da cultura da região. Da produção das vinícolas do Vale dos Vinhedos até a ambientação do nosso hotel, o visitante deve se sentir transportado para o mundo dos imigrantes italianos.
Apartamento Econômico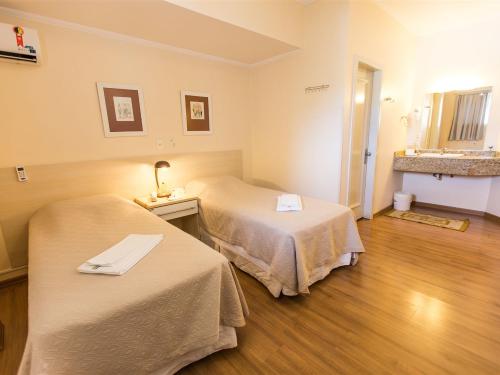 Seja para negócios ou lazer, você pode contar com a infraestrutura completa do Hotel. As acomodações oferecem sistema de ar condicionado split inverter, colchão box spring, TV por assinatura individual, aparelho de DVD, internet wi-fi, cofre, secador de cabelo, minibar, ventilador de teto e acesso exclusivo por escadas. Tamanho do apartamento: 20m².
Apartamento Standard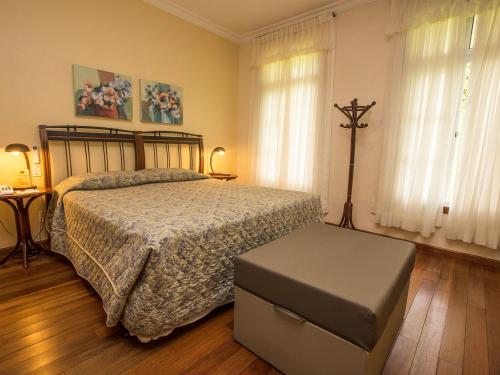 O Villa Michelon oferece muito mais do que as exuberantes paisagens do Vale. Os apartamentos Standard contam com sistema de ar condicionado split inverter, colchão box spring, TV por assinatura individual, som com CD, internet wi-fi, cofre, secador de cabelo, minibar e ventilador de teto. Tamanho do apartamento: 27m².
Apartamento Super Luxo
Nos apartamentos super luxo do Complexo Villa Michelon, além do sistema de ar condicionado split inverter, colchão box spring, TV por assinatura individual, som com CD, internet wi-fi, cofre, secador de cabelo, minibar e ventilador de teto, você usufrui de todo conforto da banheira de hidromassagem e sofá cama. Tamanho do apartamento: 42m².
Suíte Especial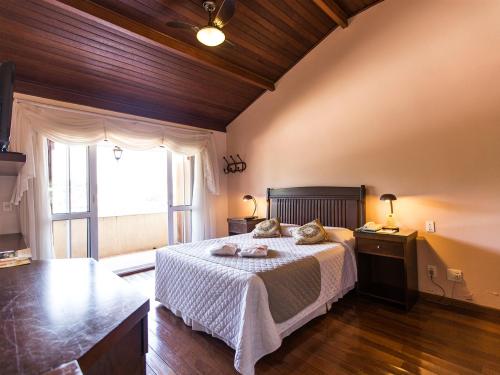 As excelentes acomodações da suíte especial oferecem todos os diferenciais de um apartamento super luxo com: sistema de ar condicionado split inverter, colchão box spring, TV por assinatura individual, som com CD, internet wi-fi, cofre, secador de cabelo, minibar, ventilador de teto e cozinha de apoio com micro-ondas, você usufrui de todo conforto da banheira de hidromassagem e sofá cama, contando ainda com uma sala. Tudo para a sua viagem ser inesquecível.